As a mom, we wear many hats. Depending on the day and the circumstance, we may be a nurse, a chauffeur, a chef, a teacher, a party planner... the list goes on and on.
Well, as of today, I'm adding a new hat to my collection.
A hat like this one:
I'm about to become a detective, out to solve the mysteries of autism.
On second thought, solving the mystery of autism is really beyond my realm of expertise. I think I'll just focus on trying to figure out some of the mysteries of autism in my youngest daughter.
Here are just a few things that I need to keep up with when it comes to Lily:
On Monday, I started Lily on the gluten-free/casein-free diet. Basically, this means no wheat, oats, rye or barley - that's the gluten part. And the casein part mostly means no dairy products. So I need to know what she's eating and when she's eating it.
She's been taking several vitamin and mineral supplements but we recently added about five more to the mix.
Lily is still in the same wonderful school but as she masters skills, they are moved over to a "maintenance" cycle and she begins working on new skills. So she may be brushing a doll's hair and pumping hand soap - skills she learned several months ago - but she will also be adding new things to the ever-growing task list. So each day, Lily has both old and new things to work on.
We're also still working on potty training which has been going very well, much to my pleasant surprise.
Her sleep cycle is another factor to keep up with - when she goes to sleep, does she go to sleep quickly or does it take her a while to drift off, does she wake up at all during the night, what time does she wake up in the morning... that kind of thing.
There's a lot to keep up with. Then I have to attempt to remember all of it when I take Lily to a doctor or therapist.
This is where the detective part comes in.
This week, I'm starting to use a journal, a notebook to help me keep track of all the little bitty millions of things that happen in Lily's day.
Basically, my brain... on paper.
So my first thought was that I would create this notebook myself.
You know, get the big new 3-ring binder, the subject dividers, the hole puncher. Just like the first day of school. Only without the cute new outfit.
But I quickly realized that I would more than likely spend the bulk of my time trying to create the perfect notebook, stressing myself out thinking that I might possibly forget to include some life altering subject divider and I would end up ditching the whole project.
I know myself pretty well.
So I bought a ready made journal that looks like this: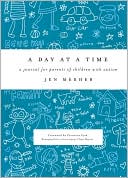 It's cute, it's thorough, it has more categories than I would've thought to include, and most important of all, it's already done!
Plus, the title of it is my life's motto, "A Day at a Time". How perfect is that?
Now I just have to keep up with it! And remember to take it with me to the doctor's office or therapy clinic.
Wish me luck!