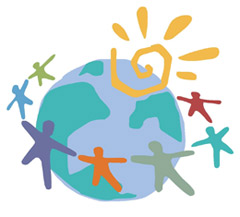 I'm sure by now you know that today, April 2, is World Autism Awareness Day. The day we are all supposed to light it up blue to bring awareness to the growing number of children diagnosed with autism.
And I'm sure by now you know that I am tired of talking about "awareness". In fact, I just recently published a post entitled
"Enough Awareness. More Action"
.
I am ready to see a total change in thinking. I am ready for a unified and vocal stance from parents. I am ready for some action from the medical community.
So today, yes, let's light it up blue. But let's also get loud.
This is a "from the archives" post, which originally appeared on the blog in July 2012.
Unquenchable thirst. Insatiable appetite. Unexplained weight loss. Bed wetting.
These were the symptoms that manifested themselves in our firstborn daughter back in 1998.
The diagnosis?
Type 1 Diabetes.
And thus began a daily regimen of insulin injections, monitoring blood sugar, analyzing ketone strips, carbohydrate counting, and dietary adjustments.
In researching diabetes, I quickly learned that there are two types:
Type 1 (also called Juvenile Onset) is insulin dependent, meaning the pancreas totally stops producing insulin and for the rest of one's life, insulin must be given on a daily basis plus extra after eating as a constant maintenance dosage to keep blood sugars regulated. In other words,
there is no cure
.
However, Type 2 Diabetes
can be cured
, usually through diet and exercise and short term insulin treatment, usually in the form of oral medication. In Type 2 Diabetes, the pancreas can often begin re-producing insulin with appropriate medical and lifestyle changes.
And therein lies the problem: many people are unaware that there are two kinds of diabetes, especially back in 1998 when Ryley was 5 and first diagnosed. So whenever I shared that Ryley was diabetic, I frequently heard comments such as:
"I bet you're feeding Reagan less sugar now that Ryley has diabetes." - implying that I had somehow caused the condition by feeding my child endless amounts of junk food.
"Well, don't worry about Ryley because I have an aunt/uncle/grandmother/..... who had diabetes and they just quit eating sugar and started exercising and it went away." - implying that we had an unhealthy lifestyle and once we made some changes, she would be cured.
"Why are you giving her insulin shots? Don't you just want to have her take the insulin pills?" - implying that I had not done my research and just liked sticking my kid with needles everyday.
And my personal favorite, shared with me while I was leading a Ladies Bible Study, standing in front of a large group of women and telling them about Ryley's diagnosis:
"You know there's a cure for that, right?" - implying that I was a lazy mom, too lazy to research treatment options for my daughter and take care of her to the best of my ability. To which I patiently replied that there is no cure for Type 1 Diabetes, the particular kind that Ryley has. To which she replied, "Yes there is." To which I replied, "Actually, there isn't. Her pancreas no longer works and never will again. Therefore, she must get insulin injections for the remainder of her life." To which she replied, "That's not true. There IS a cure!" To which I replied, "You are a stupid idiot." Actually, I didn't say that, but I was thinking it. I just told her she might want to share her "cure" with me after our Bible study. And then I fervently prayed that God would keep me from punching her in the throat.
Honestly, it was exhausting to be in the midst of caring for a diabetic child and also having to educate the public about the difference in Type 1 and Type 2 Diabetes.
Hmmmm... sound familiar?
Kind of like it's exhausting to be in the midst of caring for a child with autism and also having to educate the public about it.
It's exhausting to watch the way people disagree, pick apart each other's words, cast judgement, and basically tear one another down over differing opinions.
And I'm not talking about the general population here.
I'm referring to the autism "community".
Genetics. Vaccines. Environment. Hate. Acceptance. Cure. Regression. Born with it.
All of these words, and many more, can trigger heated discussions amongst the autism community.
A couple of firestorms erupted this past week - one in which a fellow blogger admitted that sometimes, she wishes her kid was "normal". And another in which a journalist father expressed comfort in knowing that his son will not have autism in Heaven and how this thought helps him get through the day.
And of course, what followed was the typical response from the autism community -
"Are you implying that your child isn't normal?"
"What does normal even mean?"
"Do you realize how your words communicate to your child that something is wrong with him?"
"Do you mean to say that the only way you get through the day is wishing your child was dead so that he would no longer have autism?"
"Do you realize that speech like this (from a journalist, no less - someone who makes a living with their words!) encourages hate and nonacceptance of individuals with autism?"
"Your need to express how it feels to raise a child with autism should never come at the expense of disrespecting an entire population of people with autism, especially your own child!"
Wow. Who wouldn't want to share their feelings with their fellow autism parents with such great support like that?
I wonder how much good we can do for our kids when we can't even get along within our community, let alone trying to make a difference in greater society.
I'm also wondering if some of this tension is created because really, when you get down to brass tacks, like there are two kinds of diabetes, there could be two different kinds of autism.
Hear me out.
This really won't be any new revelation to parents of children with autism or autistics themselves but as I see it, there are basically two "camps" within the autism community - those who believe their children were born with autism and those who believe their children were absolutely fine at birth and then regressed, usually around 18 months of age.
And I think these different belief systems are at the core of many of our disagreements in the autism community.
When you believe your child was born with autism, you believe that that is just who he is, who he was designed to be. Autism is an innate part of his being, just like hair color or left/right-handedness.
When you believe your child was not born with autism but rather regressed and became autistic later in life, you do not believe autism is part of his genetic make-up. You look at autism as an intruder, a foreign body who somehow invaded your child and changed who he is.
Those core beliefs are certainly going to affect how you view your child and how you view what others express about autism. I don't believe we're ever going to see eye-to-eye on this issue and we're wasting time, money, resources, and education arguing over which "camp" is right.
I fall into the second camp. If you're interested, I wrote about my difficulty in accepting autism in Lily and if you click here, you can read it.
While I've seen first-hand the ineffectiveness of having a medical condition with one name, clarified only by Type 1/Type 2, I wonder if we had something like that to describe autism, if it might allow us to separate ourselves into our respective "camps" for those moments when we need support from like-minded people, but also allow us to set aside our "camps" and come together for those times when unity is needed to make a difference for our children.
I'm not necessarily proposing a Type 1/Type 2 Autism but maybe something to differentiate between those two belief systems might be helpful. It would communicate to others in the autism community that while we have a differing view on how our children came to be autistic, we can still get along and work together to make a difference. I won't belittle you for believing your child was born autistic if you won't belittle me for believing my child could one day recover from autism.
Case in point - Lily's doctor will whole-heartedly tell you she does not have autism.
He believes she has NIDS, or Neuro-Immune Deficiency Syndrome, of which the symptoms are very similar to autism. His mantra is, "Call it what you want. But don't call it autism." He firmly believes that 99% of children who developed neuro-typically then experienced regression are misdiagnosed with autism. He firmly believes that with the proper medical treatment (by an MD - not by biomedical interventions, vaccine-avoiding, GFCF, hyperbaric oxygen, and so on....), these children can recover. Not in spite of autism, but because they never had it in the first place.
Why is this important?
Because no matter what Lily's diagnosis, I am 100% sure she was not born with autism. Autism does not define her. It is not an innate part of who she is.
So when I admit that there are times I wish Lily was "normal", I am not attacking her as a person. I am not attacking who she is. I am attacking an intruder in her body that stole who she is and that I intend to do everything in my power to eliminate.
This does not mean I am going to murder my child or am encouraging other parents of autistics to do that. This does not mean that I wish she was dead so she can be healed in Heaven. It does not mean that I hate my child.
It means that I love her with every fiber of my being. And it means that I would give up my own speech if it meant she could talk. It means I wish she could say what I see her struggling to communicate. It means I wish I didn't almost literally see the wheels in her brain turning, trying to figure out what I'm saying and how she's supposed to respond. It means that I wish with my whole heart that I could make life easier for her.
Bottom line?
I don't think all kids have the same kind of autism:
Type 1 Autism - Born with it, innate part of who you are, no recovery, fully accepting
Type 2 Autism - Not born with it, regression, belief that recovery is possible
If we could all just accept that we're coming from two different "camps" and quit trying to force each other to agree, maybe we could bring about some real change for our kids.