Have you heard about the newest ATM machines?
Instead of dispensing cash, these machines dispense.... cupcakes!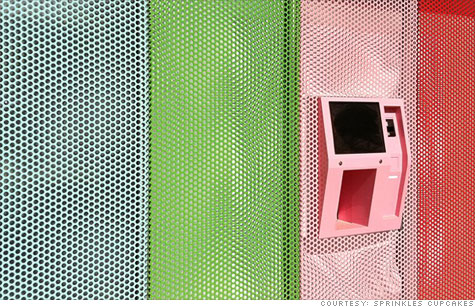 Sprinkles Bakery
, a gourmet cupcake chain with ten locations nationally, will open the first ever 24 hour cupcake vending machine at the original location in Beverly Hills.
This idea got me to thinking.
While it might be nice to have access to a freshly baked cupcake at any hour of the day or night, what other things might an ATM dispense that I would love even more?
How about an Olive Garden breadstick vending machine? With a little marinara on the side just for dipping.
Or, thanks to Miss Karen, I would love to see a Big Train vanilla chai tea latte vending machine.
Since I live in Texas, an ATM that dishes out extra thin, warm, crispy tortilla chips with a choice of salsa, queso, or guacamole would be simply lovely.
But then I got to thinking outside the idea of a food ATM.
I don't typically wear much jewelry but I hate it when I forget to put on some earrings. So how about an earring ATM?
Or for those days when you wear a cute pair of new shoes and they really start to hurt your feet, wouldn't a vending machine with those little roll-up ballet flats be nice?
I once went to church with mascara on only one eye. I don't have any nails to speak of but a ragged, peeling fingernail drives me crazy. Or being without a Kleenex and desperately needing to blow my nose. And when my Burt's Bees lip balm isn't in my purse, it almost brings me to tears. A nice cosmetics ATM could really come in handy.
Now for Lily, a really awesome vending machine would be one that dispenses pants and a Pull-up. It never fails that we go out, I forget an extra set and that's the day we have... ummm... multiple leakage issues.
And please don't say, "Duh, Lana. You don't need a vending machine for any of this stuff. Just a 24 hour Wal-Mart." Because that's not the point. Pulling up and not having to get out of my car is the point. Besides, how about a little novelty just for the fun of it?
So what about you? What would you like to see in a 24 hour ATM? Get those wheels turning! Maybe we'll come up with the next greatest thing in vending machines!