What started out as a fun diversion for Sunday Stilwell over at
Adventures in Extreme Parenthood
has become a Friday tradition for many special needs bloggers.
Besides the common bond of raising special needs kiddos, Sunday has found a way to connect us through laughter, a great way to build friendships, in my opinion.
Rather than try to explain this tradition, how about you just
click here
and I'll let Sunday and Ryan Gosling do the explaining.
Who knows? Maybe next Friday, Mr. Gosling will have something to say about the Bird.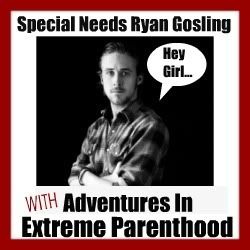 Enjoy your weekend!