I've shared my mad love for the cookbook "Cooking for Isaiah" here more than a few times.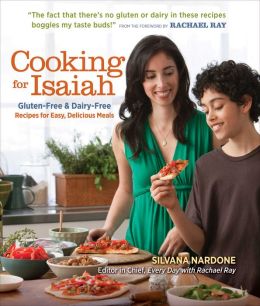 The author, Silvana Nardone, is the former editor-in-chief of the
Everyday with Rachael Ray
magazine. When her son, Isaiah, was diagnosed with gluten and dairy allergies, she not only made it her goal to safely feed him tasty food, but to make him forget that the food he was eating was allergy friendly.
And I'm here to tell you she has not only met that goal, but blown the doors right off it.
I have yet to try a recipe in this book that isn't amazing. Of course, I lean towards her baked items because... DUH. I am a fool for a good brownie.
But today let's talk pancakes.
Or rather, a little outside-the-box pancake.
The corn cake.
A delicious cross between a pancake and cornbread. Perfect for breakfast. Or, even better, the ever popular breakfast for dinner, when you can serve them alongside runny fried eggs and crispy bacon.
Heaven.
Let's cut to the chase and get right to the recipe, shall we?
Griddled Corn Cakes with Strawberry Syrup
1 1/4 cups rice milk (I've been using almond milk & it works, too)
2 tsp apple cider vinegar
1 cup Silvana's Pancake Mix (recipe below)
1 cup cornmeal, preferably medium grind
1/2 tsp salt
2 large eggs, at room temp, lightly beaten
1/4 cup vegetable oil
Syrup:
1 cup strawberry jelly
1/4 cup water
To make the corn cakes, in a small bowl, stir together the milk and vinegar.
In a medium bowl, whisk together the pancake mix, cornmeal, and salt. Add the milk mixture, eggs, and oil; stir until just combined.
Spray a large nonstick skillet or griddle with cooking spray, then heat. Pour about a 1/4 cup batter into the pan and cook until the pancakes are golden and set, about 2 minutes on each side. (I make mine silver dollar size)
Meanwhile, to make the syrup, in a small saucepan, warm the jelly and water over low heat, stirring occasionally, until syrupy. Serve with corn cakes. (Or you can skip this step and just slather on strawberry or peach preserves like we do)
Silvana's Pancake Mix
Click here
to get the recipe for Silvana's Flour Blend and make it first. Then do the following and voila - you've got pancake mix.
9 cups Silvana's Flour Blend
1 cup plus 2 tbsp sugar
3 tbsp baking powder
2 1/4 tsp salt
In a large bowl, whisk together the flour, sugar, baking powder, and salt. Transfer to an airtight storage container and store in a cool, dry place or in the fridge.
You can thank me profusely later.
Have a warm weekend, my lovelies.