I cannot even begin to tell you how wonderful it was to have the month of June off together as a family. The first week, we hung out at home, then spent two incredible weeks in Aspen, Colorado, and finally, spent the last week back at home, trying to stretch those final days before reality set upon us once again.
Now, I absolutely love to travel. But traveling with Lily can be a challenge, to say the least. And it's not just the actual traveling time that can be a trial. Choosing a destination that all of us enjoy and setting up a comfortable and safe home base requires much advance planning. And while I love to visit new places and explore, when Lily is along with us, it's much simpler to stick with familiar territory.
Which is just one of the many reasons we love Aspen.
Since this was our third time to visit, we knew exactly what to expect. We knew the layout of the condo so we could decide the best way to "Lily-proof" it. We knew we wouldn't need to rent a car because hotel shuttles are always available. Since we knew we didn't need a car, we knew we didn't need to lug the car seat along. Since we were arriving around supper time, we knew which pizza place to call for delivery the first night. Knowing I'd have a fully stocked kitchen and a nice grocery store in town, I planned for a few meals at home and made a list before we even left Texas. And of course, we knew the best place to eat incredible oatmeal pancakes and the best place to buy fresh homemade cookies.
But more importantly, Lily Bird was amazing! I was a little worried that we would come home exhausted from trying to keep up with her 24/7 for two weeks, because I'm not going to lie - her going to school is a break for me. But she quickly adapted to vacation mode. She ate in restaurants like a champ, lounged around the condo, took naps, watched movies, went swimming, and explored all over Aspen in either her jog stroller or the bike trailer. Honestly, this was the best trip we've ever had with her.
There were several things that made our vacation work so well.
You know those few moments on an airplane when you can't use electronic devices? Also known as the moments when time seems to drag ever so slowly? Inside our carry-on, I packed a separate bag of non-electronic things for the Bird that I could quickly grab to keep her entertained. Most of the stuff inside the bag was cheap party store type stuff - stickers, notepads, a whiteboard & markers... that kind of thing.
But a few items in my little goodie bag held Lily's attention longer than others...
Little self-inking stamps like these:
For whatever reason, Lily loves these cheap things. And we let her go nuts with them - stamping papers, magazines, DVD cases, even our arms and legs.
Good ol' Play-Doh:
Of course, the Bird can't be like everyone else and her favorite way to use the play-doh was for us to take balls of it and roll them up and down her arms and legs. Kind of a play-doh massage, if you will. Strange, but it kept her happy so I'm not complaining!
Lacing cards: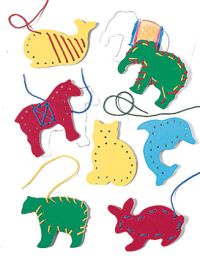 OK, so maybe she needed a little bit more encouragement from us to actually do these but she did and it killed a few more of those endless non-electronic minutes.
Travel games, specifically Connect Four and Perfection:
While Lily didn't technically play these games according to the manufacturer's instructions, she did enjoy dropping the pieces into the game boards.
Of course, we didn't spend all our time on the plane so here's a few things that made the rest of our trip so awesome.
First, this amazing bed:
The Safety Sleeper
is a safe, fully enclosed, and portable bed for children with special needs. Plus, it looks cool and the Bird loved it! It's lightweight and is quick and easy to assemble. It comes in a large duffel bag that we labeled as special needs equipment, checked with our suitcases, and the airline didn't charge us for it. A twin size mattress fits snugly inside. We just asked the hotel to put an extra twin mattress on the floor next to our bed but you can also use an inflatable mattress if you prefer.
Our only other option would have been to have Lily sleep with us 14 nights in a row, with her popping up every 30 seconds, looking around the room, searching for an iPad, and us wrestling her until she finally fell asleep two hours later. This awesome bed allowed us to safely and securely tuck Lily in at night, knowing she could not escape and wander around, which allowed us to rest comfortably ourselves. I really think this bed, more than any other item, made our vacation a success.
By the way, if you decide to purchase a Safety Sleeper Bed, would you be kind enough to let Rose know that you heard about it from me? Thank you kindly!
The
Fisher-Price Laugh & Learn Apptivity Case
for the iPad.
Simply stated, this case works! It's sturdy and almost waterproof. Granted, it's not the smallest case you'll find, but it's the only one that Lily hasn't managed to destroy or remove the iPad from. And at around $35, you can't beat the price!
While we don't currently own one of these, this is what I would purchase if we were in the market for one. We rented two different bike trailers while in Aspen and this one was far superior to the other. We could keep Lily more safely contained, the interior was comfortable and roomy for her, and there was a very large storage compartment on the bike that was quite handy. Lily loves to go fast and feel the breeze on her body so I'm pretty sure that bike riding was her favorite vacation pastime.

Last but not least, we love our BOB Revolution jog stroller. That thing goes everywhere - including the airport, something I wasn't aware of. Even though the stroller is hefty, we were able to gate check it at no extra charge. And I'm not sure there's a square inch of downtown Aspen that our BOB didn't roll over.

In the Rush family, good rest and good fun makes for a great trip. And these items helped us do just that - relax and have some good, clean family fun. Maybe they'll do the same for you!

Happy summer and I'll see you Tuesday!